Fine dining begins with the freshest local ingredients.
Casual or formal, discover delicious fare in Westminster, CO.
At Covenant Living of Colorado, we know that variety is important to you. That's why we give you options and let you decide what you're in the mood for. We offer flexible dining times that fit around your schedule. Our ever-changing menu selections ensure you'll always be enticed by what we have to offer. Our executive chef and professional culinary team create daily specials in addition to our weekly lunch and dinner menus.
The wide range of delicious and nutritious fare will keep you happy and healthy. Choose among fresh salads, soups and sandwiches for lunch. For dinner, enjoy entrees such as healthy fish, hearty pot roast and savory rotisserie chicken. Enjoy Sunday brunch favorites, from omelets to fresh strawberries.
Meet up with a buddy and enjoy a coffee drink in our Bistro Café, where you'll have a choice of espresso, cappuccinos and flavored lattes. Gather for a cookout on the patio or sit down to a feast with friends in our dining room. Pick up and take your meal wherever you choose. Or stop by the café for a grab-and-go sandwich or salad.
Whatever choice you make, hospitality is always on the menu at Covenant Living of Colorado.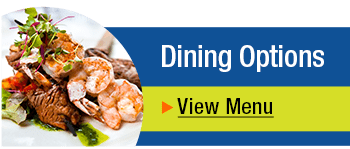 To learn more about our services, please click here to contact us online or call us at (877) 811-3801.